IGMP INDIVIDUAL GUIDANCE AND MONITORING PROGRAMME NDA
IGMP INDIVIDUAL GUIDANCE AND MONITORING PROGRAMME NDA
NDA classes in Pune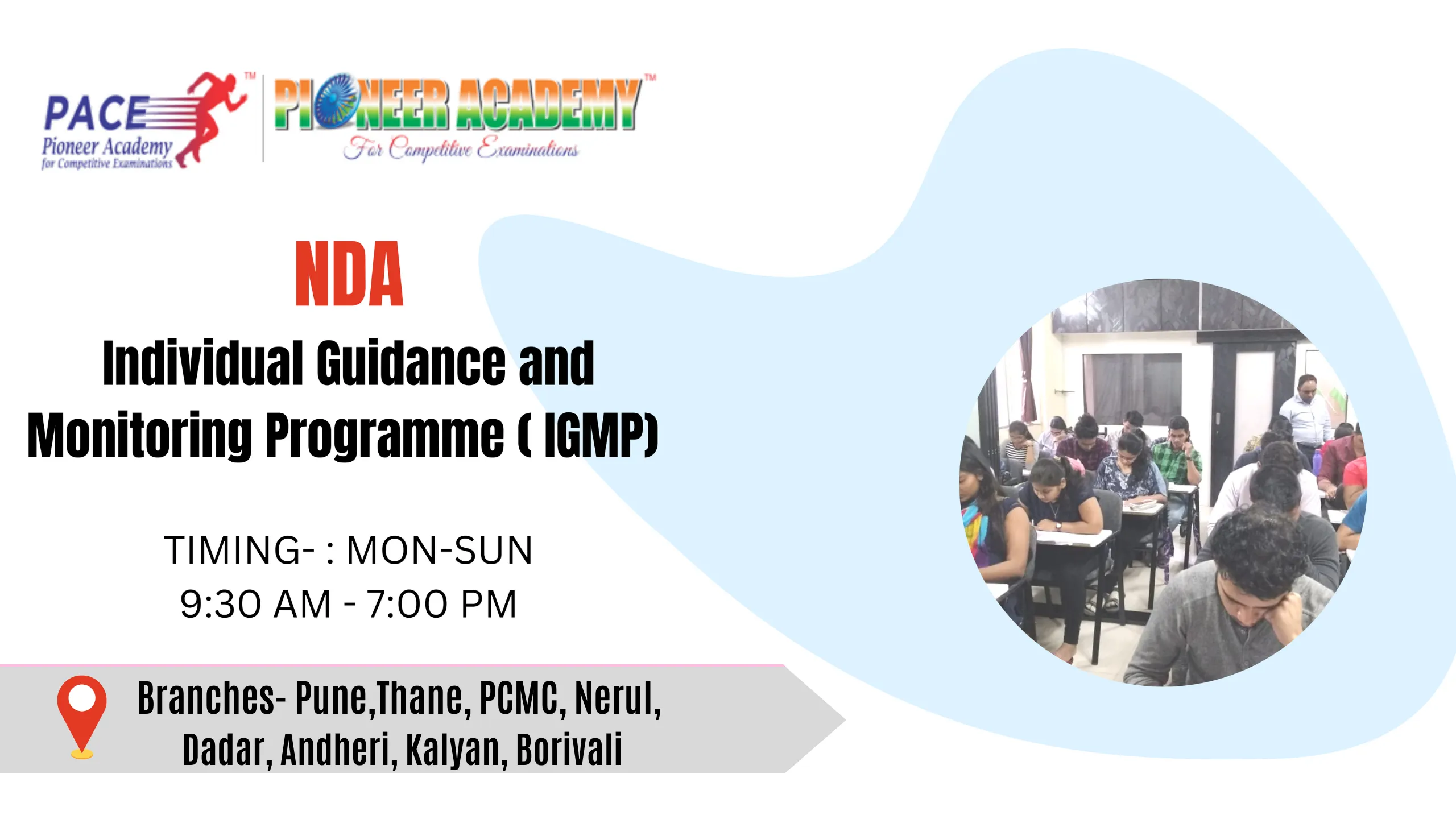 (Our Branches: Thane, Dadar, Andheri, Borivali, Nerul, Kalyan, Pune, PCMC, Satara )
Pioneer Academys NDA classes in Pune according to Google is the leading and foremost NDA classes for Government Exam Preparation. It is the top classes for NDA in Pune. The aim of Pioneer Academy is to provide guidance and support to students in their preparation for exams. The institute offers different government exam training to all students.
The Pioneer Academy offers NDA classes in Pune to students for examination training. There are many centres available at pioneer Academy where an individual can take admission and commence their preparation. Pioneer institute provides each student with a perfect strategy for all types of examinations. We give a perfect plan of action for exam preparation to every student.
For the NDA examination, you must give proper attention to every subject and prepare yourself for one and all subjects. NDA/NA examination syllabus is quite more vast than other types of examination. NDA examination is considered to be tough and requires extensive preparation and dedication in order to crack it. Pioneer Academy makes sure to prepare students for this tough examination by clearing all their doubts and questions.Pioneer academy tries to solve students doubts as effectively as possible.
NDA stands for National Defence Academy. The NDA examination is a national-level defence entrance exam conducted by the UPSC. . The exam is conducted to recruit individuals in the Army, Navy, and Air Force Wings of NDA. Both male and female candidates are eligible to apply, making it the most competitive defence admission exam in the nation

The age limit for boys applying for the NDA exam is 16.5 to 19.5 years. The age limit is also same for the girls. Only unmarried male / female candidates can apply for NDA Examination. The students who have passed or are appearing for 12th exams can enroll for NDA . However, the students who passed 12 examination with Physics , Chemistry and Mathematics can apply for Naval and Air force wings of NDA .The NDAs eligibility requirements cover a wide range of factors.Before registering for the exam, candidates must make sure that they meet the NDA eligibility requirements. Candidates who fail to meet the NDA eligibility requirements will not be allowed to take the exam.NDA eligibility standards are a set of conditions that applicants must meet in order to sit for the exam.
Candidates must meet the following NDA qualifying requirements in order to be selected for final consideration:
Nationality - It is a requirement that the applicant be an Indian citizen
Age Limit- As mentioned earlier age limit is 16.5 years to 19.5 years
Marital Status - A candidate is supposed to be unmarried
NDA Medical Test - The applicant should also be mentally and physically fit For NDA
NDA Qualification - The candidates appearing or have passed 10+2 examination are eligible for NDA
Gender - Both male and female candidates can apply for NDA Examination.
Now, let's understand NDA EXAM PATTERN which is useful for students attempting the examination.
Typically, the exam notification is released in December and May. The exam consists of an online application process, and the deadline to apply is typically one month prior to the exam date.
UPSC is responsible for issuing the guidelines for selection and the final administration of the entrance exam.
NDA EXAM PATTERN
NDA is a national level exam. This exam is held twice a year to aid applicants in pursuing a career in the Defense forces. The NDA I exam is conducted in the month of April and NDA II Exam is conducted in the month of September.

A candidate will be called for the interview only when he/she has cleared the written Examination
The total duration for the exam is 5 hours with 2.5 hour for each paper.The exam will be conducted in offline mode . The questions will be Multiple choice questions. Negative marking will be applied for wrong responses.
This exam is conducted in two stages,

1. Stage one - written exam
2. Stage two - interview.
However, The written exam is conducted in two parts,
1) Mathematics - The mathematics paper consists of 120 questions with 2.5 marks for each question. In short, the mathematics paper is of total 300 marks.
2) General Ability Test ( GAT) - The GAT paper consists of 150 questions with 4 marks for each question . In short, the GAT paper is of total 600 marks.
After clearing both stages an individual has to go under training which is for a period of 3 years.
This is a small introduction related to the NDA examination. If you want more information related to any examination, connect with Pioneer institution for correct information and guidance. In Pioneer Academy the students are prepared for NDA Exam effectively by providing them with individual guidance and support . Kindly visit our website pioneeracademypace.com for detail information and join our NDA classes In Pune to commence your NDA journey.