THREE YEAR FOUNDATION CUM INTEGRATED COURSE AFTER 12TH
THREE YEAR FOUNDATION CUM INTEGRATED COURSE AFTER 12TH
CDS Classes in Andheri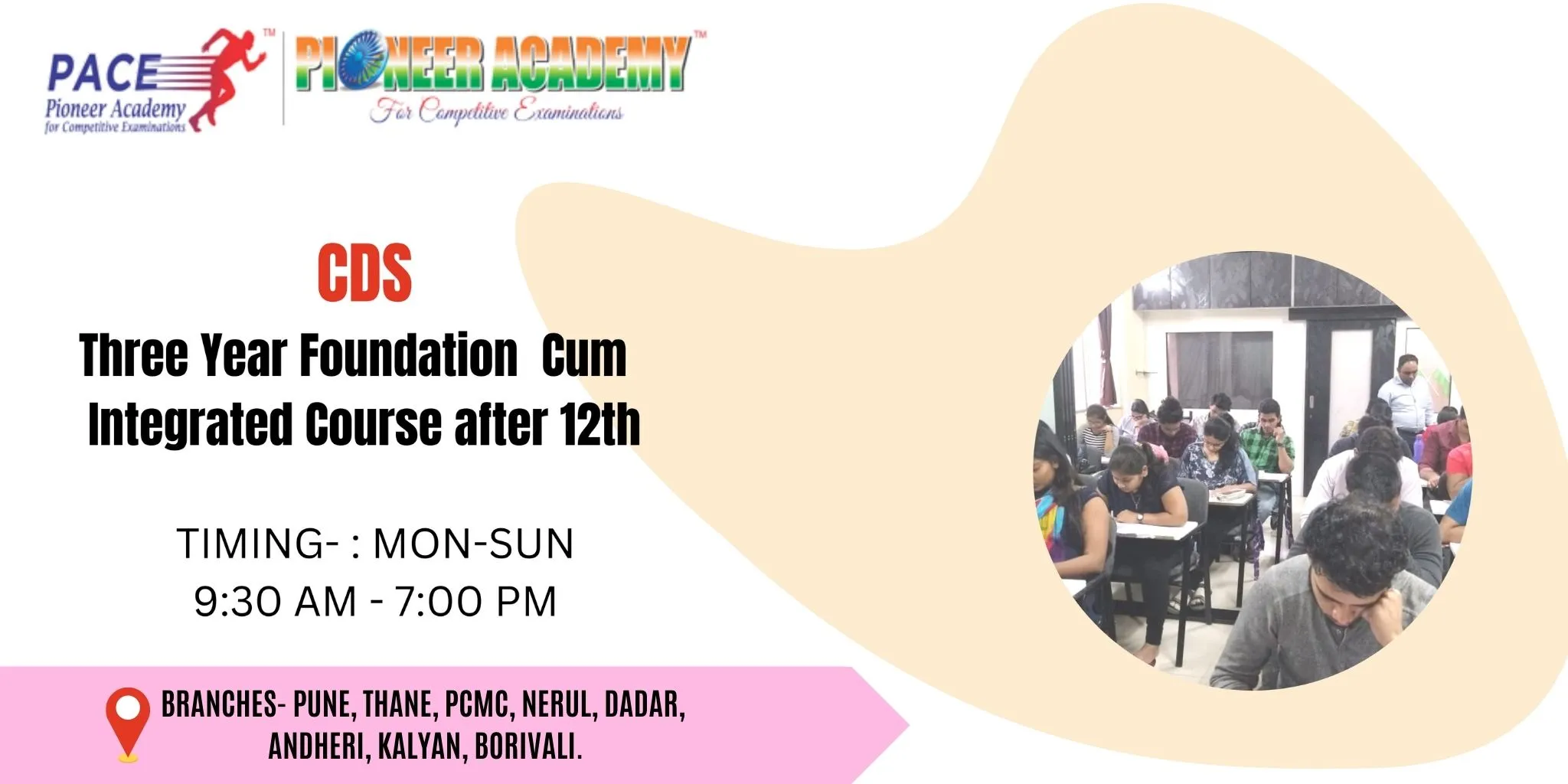 (Our Branches: Thane, Dadar, Andheri, Borivali, Nerul, Kalyan, Pune, PCMC,Satara)
For the purpose of appointing Commissioned Officers for the Indian Military Academy, Officers Training Academy, Indian Naval Academy, and Indian Air Force Academy, the Union Public Service Commission administers the Combined Defence Services Examination. Pioneer Academys CDS Classes located in Andheri Provides CDS Coaching with strategic study plan & preparation, Correct Guidence to acheive above officers positions.
Our academy having 3 types of batches for aspirants who wants to attempt the cds examination according to there age eligibility criteria.According to the exam IMA and OTA, candidates for the cds exam must be between the ages of 19.5 and 24/25.
Age Criteria According to Exam :
1.IMA
Age : 19.5 & 24 yrs
Gender : Only Mens
2.OTA
Age:19.5 & 25 yrs

Gender : Both Men & Women

Making young boys into Army officers is the responsibility of the Indian Military Academy.The IMA is a renowned Indian Army officer training academy located in Dehradun and was founded in 1932.

Batches that we provide:
1. Foundation Batch
2. Intermediate Batch
3. Advance Batch
A Few Specifics Regarding CDS Batches :
1st Year: Foundation Batch

The Foundation batch is basically for 12th STD cleared student who wants to make a career in defence services. Students of Any stream can join the batch in Our CDS Classes in Andheri . In this batch, we teach them how to start studying for the defence service. How to read a book effectively, and how to make a strategy to score high marks. And how to make notes and focus on current affairs. We give the name of reference books for reading and get more knowledge about the course. The Foundation batch is for beginner aspirants to start their journey towards a defence career. Make sure you will be an expert on that course. In the foundation batch, we focus more on the prelims exam.

2nd Year: Intermediate Batch

In an intermediate plan, we focus more on the main exam. In this batch, we teach students how to write the main paper. How to study for mains examination. We focus on the SSB interview round also. We teach them which questions are mainly asked in the main examination and SSB round. Aspirants have more knowledge than the previous year; now, they only need to practice it. They want to revise and focus more on the mains and SSB interview round.
3rd Year: Advance Batch

This is the third and last but the most critical time for defence aspirants. Here they have to revise all syllabus. We provide test series every week. We planned a mock interview and mock tests for all students; revise of pathfinder step by step. If any aspirant has any doubt about any topic, our expertise clears their doubt. To date the exam, we cover the whole syllabus the exam.
Pioneer Academy provides "THREE-YEAR FOUNDATION CUM INTEGRATED COURSE AFTER 12TH" , If you need More Details about the Integrated Course visit to Our CDS Classes in Andheri. New Batches Starts in few days , if you want to be part of it and to design your career in cds then you need to visit near by branch .

Some of the points to be remembered for the CDS Three year foundation cum integrated course after 12th

1. Divorcee Male/Widower will be considered as married during the application submission.

2. Change in date of birth will not be accepted.

3. If the date of birth doesnt match with valid documents then strict action would be taken by the governing bodies.

4. Only recognised Indian university certificates will be accepted.

5. All the records of the candidate would match with the valid documents during the course.

How Intelligence and Personality test is conducted:

This is conducted in two stages Stage I and Stage ll. Only candidates who passed the Stage I exam will be eligible for the Stage II interview.
Stage I is an Officer Intelligence Rating based test which has picture perception and descriptive model test.

Stage II consists of an Interview, psychological test, and conference interview.
How the selection is done:

One can join this course by visiting our nearest branch where our education counsellor will guide you to the course. We just ask basic questions regarding the courses so that helps us to get the perspective of the candidates accordingly but the selection in the CDS force is different, lets see some of the processes.

Written Exam:

The written exam is conducted by the governing body to test the students knowledge. It consists of three subjects English, General Knowledge and basic Mathematics.

Interview:

Once the exam is completed the passed-out candidates are called for an interview on the basis of cut-off marks.

Medical Verification:
A complete medical evaluation is done during the selection process.

Document Verification:

All the documents should be genuine and should match with the original ones.