CSAT Special Approach
MPSC Classes in Borivali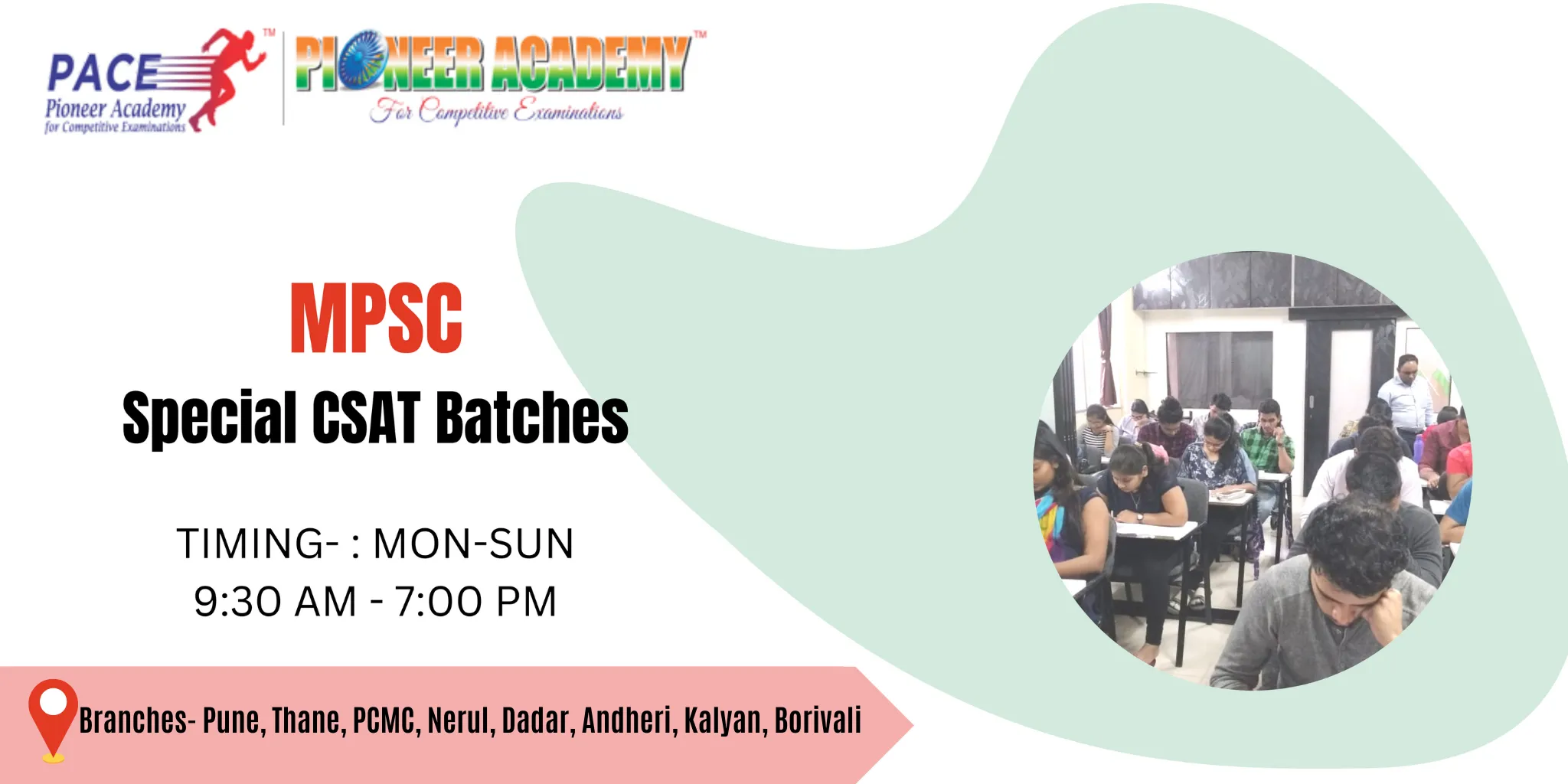 (Our Branches: Thane, Dadar, Andheri, Borivali, Nerul, Kalyan, Pune, PCMC, Satara)

Clearing Prelims is one of the critical stages of the MPSC examination. MPSC prelims consist of two papers GS and CSAT; many students, especially those from Non-Science backgrounds, find it quite challenging to study, and it results in scoring fewer marks in CSAT. Even though it is qualifying, this needs a smart strategy to prepare. So we at Pioneer MPSC classes in Borivali guide you to the right path and help you to get ready for the future.
Students score high marks in GS papers, but it is not the same in the paper, which results in failing at the first attempt of the MPSC examination as they cannot clear the prelims.
CSAT is a crucial part of MPSC Prelims; hence, Pioneer MPSC classes in Borivali provide special coaching for CSAT in a very focused way. Special sessions for every topic expected in the examination are covered in detail. Proper tests are conducted comprising every topic in MPSC CSAT. The main focus is to get full command of the CSAT paper to get maximum marks in prelims, leading the candidate to clear the preliminary examination.

So, what should be the correct approach to clear the MPSC-CSAT Paper?
Pioneer Academy conducts CSAT exclusive classes, which develops a correct approach for the preparation of every individual student so that they clear the prelims examination with excellent marks.
Even if you are from a non-science background, we at Pioneer MPSC class in Borivali plan a perfect strategy for your CSAT preparation, focus more on clearing your basics, and cover all the segment-wise essential topics.
At pioneer academy, we emphasize solving and practicing CSATs previous years questions and solving all the relevant issues from Aptitude, Reasoning, General Mental Ability, and Decision making. You get to understand what the MPSC CSAT paper demands from the aspirants.
So if you want to score in the CSAT section, you can join our CSAT special batches and develop a perfect strategy.
MPSC conducts CSAT papers to check the candidates mental and reasoning ability and how good as an officer they are in decision making. All this requires practice.

If you have any questions regarding your CSAT preparation, you can contact us now, and our expert teachers will guide you correctly in your MPSC preparation. Plan the strategy with us and secure top rank in MPSC, clear the first step, and move ahead in Selection. Be on the list of toppers and achieve your dream.

Dont waste your valuable years; prepare in the right way, live your goals, and make yourself proud by becoming a part of Maharashtra public services.

Clear your Prelims under the best guidance of Pioneer Academy. Online and offline coaching is available. Any MPSC aspirant can join and start their preparation with our perfect approach and smart strategy.

At Pioneer, Borivali MPSC classes help set you on the right track and prepare you for the future.
CSAT is an important part of MPSC qualifiers. Therefore, Pioneer MPSC class provides coaching specific to his CSAT in a very focused manner. Even without a scientific background Pioneer MPSC class plans the perfect strategy for CSAT preparation. One of his best MPSC classes in Borivali, the Pioneer Academy takes the right approach to exams and helps you achieve success in a short period of time. Of all his MPSC classes in Borivali, Pioneer Academy is the only one that offers mentors to students, ready to help with any questions they may have. Lets look at a syllabus of CSAT in a nutshell.
Communication Skills
Analytical Skills
Reasoning
Mental Ability
Decision-Making
Problem-solving
Data-Interpretation
Chart Analysis
Importance of CSAT:
UPSC Prelims Paper-1 (General Studies Paper) and Paper-2 (CSAT Paper) combined scores are used to determine a candidates final ranking (IAS Prelims Ranking) for eligibility for the UPSC main exam. Considered.
However, some of the aspirant community objected to including his CSAT in the rankings, and UPSC responded with a minor design change. CSAT became a qualifying paper in 2015.
According to her current UPSC exam structure, to pass the civil service preliminary exam, a student must achieve a score of 66 out of 200 on her CSAT paper, which is 33% or higher for him.
Only those who have achieved a score of 66 or above on GS-Paper-2 and at the same time she has achieved a score of 66 or above on GS-Paper-1, are eligible to participate in this civil service examination.
Important Tips:
CSAT is considered simple, but it takes time to understand. Analyze the previous years survey and identify your weaknesses.

Many of the questions are based on reading comprehension questions, so it is important to give yourself plenty of time to answer them. Read the question, read the section, then start answering. That way you know what to look for in the passage. Practicing CSAT questions like this is very important because it takes time to understand a passage.
Practice 5-6 logic questions every day to solve the logic part accurately. Read the previous years questionnaire, understand the difficulty of the question, and start practicing accordingly.
Have important measurement formulas or formulas on the topic of the analysis part. Remember them carefully. Check your exam clarity and proficiency by enrolling in our online sample exam series.
Be a voracious reader of newspapers, magazines and magazines. This will help you understand the passages better and improve your vocabulary and grammar skills.