ANNUAL INTEGRATED BATCH MPSC
ANNUAL INTEGRATED BATCH MPSC
MPSC Classes in Pune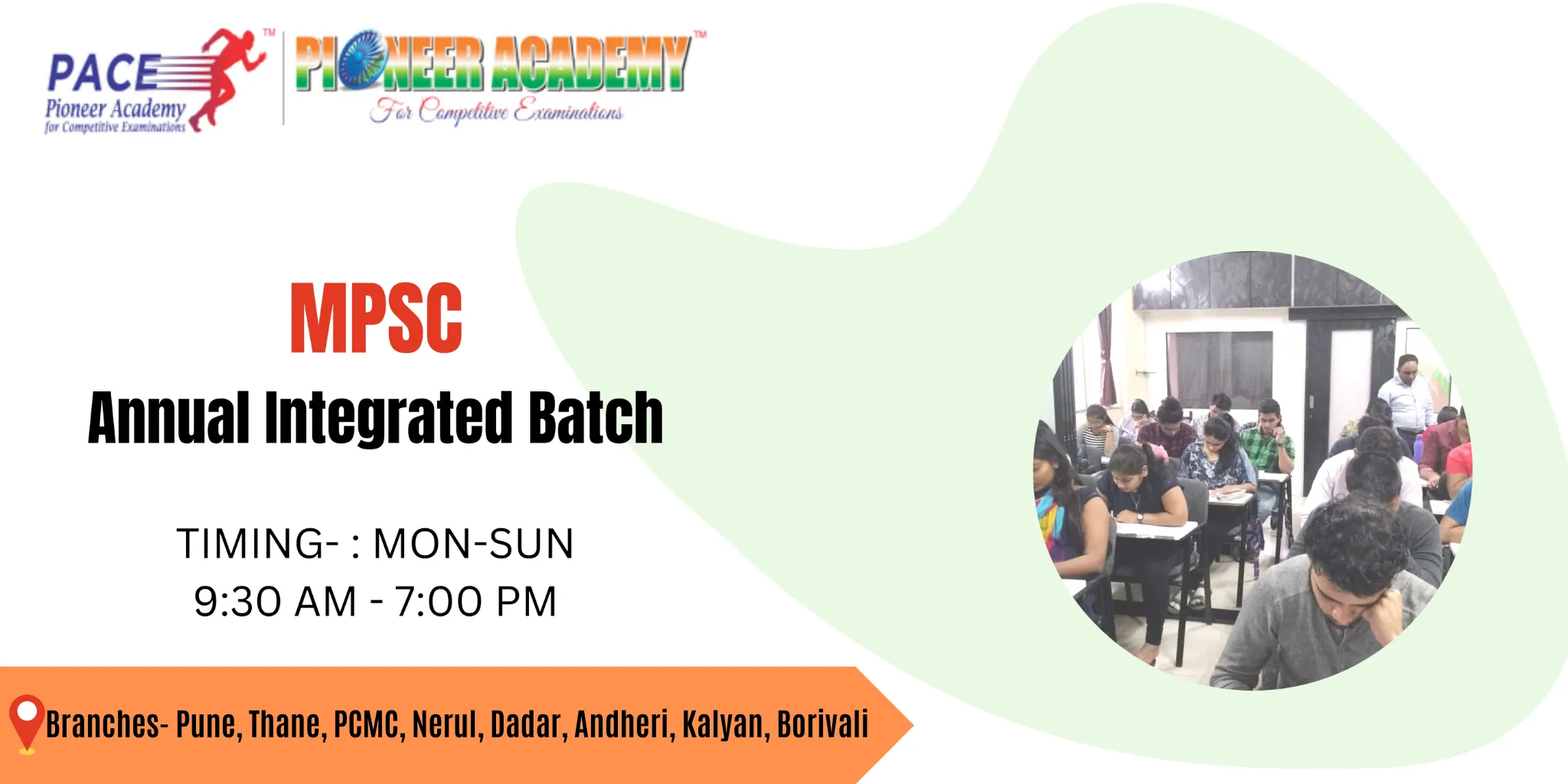 (Our Branches: Thane, Dadar, Andheri, Borivali, Nerul, Kalyan, Pune, PCMC, Satara)
The
Maharashtra Public service commission
conducts the civil service examination every year. The three stages of the examination are prelims, mains, and personal interviews. The annual integrated batches for MPSC commence on 15th June, 15th August, 15th September, and 15th November. The first Four months are devoted to prelims, whereas the later Eight are dedicated to mains. Pioneer Academy always offers qualitative and quantitative preparation courses to MPSC candidates for all selection process to improve their preparation for civil service exams. We have the best academic intellectuals backed by years of experience and continuous research and analysis of MPSC exam templates. Pioneer has developed his MPSC foundation course to match the dynamic nature of the MPSC exam.
One of the best MPSC exam preparation courses offered by our institute, it aims to provide MPSC candidates with a solid knowledge base for preparation and guidance to succeed in the civil service exam.
Extensive classroom teaching, quality study material, and rigorous test series are the hallmarks of the academys batches. Emphasis on developing the candidates capacity to understand, comprehend and analyze are the components in the syllabus.
The main course is an intensive and rigorous eight monthly academic course. In this, the following area is what we extensively teach.
· English (compulsory)
· Marathi (compulsory)
· General Studies 1
· General Studies 2
· General Studies 3
· General Studies 4

Extensive classroom teaching, quality reading material, and rigorous test series are these batches highlights; instead of covering the entire syllabus, academic learning focuses on all the primary crucial topics.
The main emphasis is always on developing the candidates comprehension and analytical skills. Because due to the changing nature of MPSC exams, the mains is also objective type, and a particular emphasis is on solving those types of question papers. Hence, the candidates are encouraged to write the test series, which the faculty meticulously prepare: timely evaluation and comprehensive feedback will help them understand their progress.
Prelims:
Pioneer for MPSC classes in Pune helps the candidates to prepare for the preliminary examination with a well-organized and intensive course of four months. It channelizes and directs the candidate to develop comprehension and analytical skills. Like Mains, Extensive classroom teaching, quality reading material, and rigorous test series are highlights of the prelims batches.
Test Series is an integral part of the course, whereby the ability and approach to crack the examination is what we teach to our candidates.
Mains:
Paper I – Marathi
Passage Writing
Detailed Writing.
Grammar
Essays.
English to Marathi Translation.
Paper II – English
Brief Essay
Passage Writing
Grammar and Vocabulary
Precise Writing Test
Paper III – Essay
Essay papers may require candidates to write essays on multiple topics. Students are expected to stick to the topic of the essay, organize their thoughts in an orderly manner, and write concisely. Candidates who are preparing for the All India Service along with the Civil Service exam may know that essay writing is very important in any exam. Thats why we provide an essay writing post that MPSC candidates can refer to for their civil service exams.
Paper IV - GS 1
Indian culture covers remarkable parts of works of art, writing and design from old to present day times.

Major geophysical phenomena such as earthquakes, tsunamis, volcanism, and cyclones. Geographic features and their locations –, changes in flora and fauna, and the effects of such changes.
Paper V - GS 2
Constitution of India - Historical Basis, Developments, Features, Amendments, Important Provisions and Fundamentals structure.
Tasks and responsibilities of the Commonwealth and Federal States, problems and challenges of the federal structure, transfer of powers and finances to the local government level and challenges therein.
Paper VI - GS 3
Indian economy and issues connected with arranging, asset assembly, development, improvement and work.

Inclusive growth and its associated problems.

Government budgeting.
Main Crops – Cultivation patterns in different regions of the country, different types of irrigation and irrigation systems, storage, transportation and sale of produce, and issues and related restrictions. Technology that supports farmers.
Paper VII - GS 4
Attitude content, structure, and function; influences and relationships on thought and action; moral and political attitudes; social influence and beliefs;

Fitness and Core Values ​​for Public Service, Integrity, Fairness and Impartiality, Objectivity, Commitment to the Public
Interview:
The interview preparation at the Pioneer MPSC classes in Pune trains the candidates in personality development, soft skills, and communication skills and prepares them to face interviews; the following methods undertake the preparation for the interview.

Lectures on interview techniques by eminent faculties.

Lectures on topics of current relevance.

Lecture by previous successful students of the Academy drawing on their own experience on how they faced their interviews.
Series of Mock interviews by experts Panels, Individual and group counselling sessions by the panel members of the mock interviews, etc.
Study material.
We ensure that the candidates are confident and well-equipped to face the interviews without fear or hesitation at Pioneer MPSC classes in Pune.
Key features:
Lectures with smart infographics and presentations.
Updated study material.
current affairs paper.
Officer Guidance Session.
Student Dashboard/Portal.

Suspicious session.
Full coverage of pre-curriculum and core curriculum.
Subject-wise study and test practice are allowed through suspicion sessions.
Class Notes and Printed Materials.
Year-round Curriculum Roadmap Strategy.

Digitalized class.

Weekly lessons on current topics.

Prelim and Main exam test series.