SIX MONTH INTEGRATED COURSE
NDA Six Months Integrated Batch
NDA classes in Andheri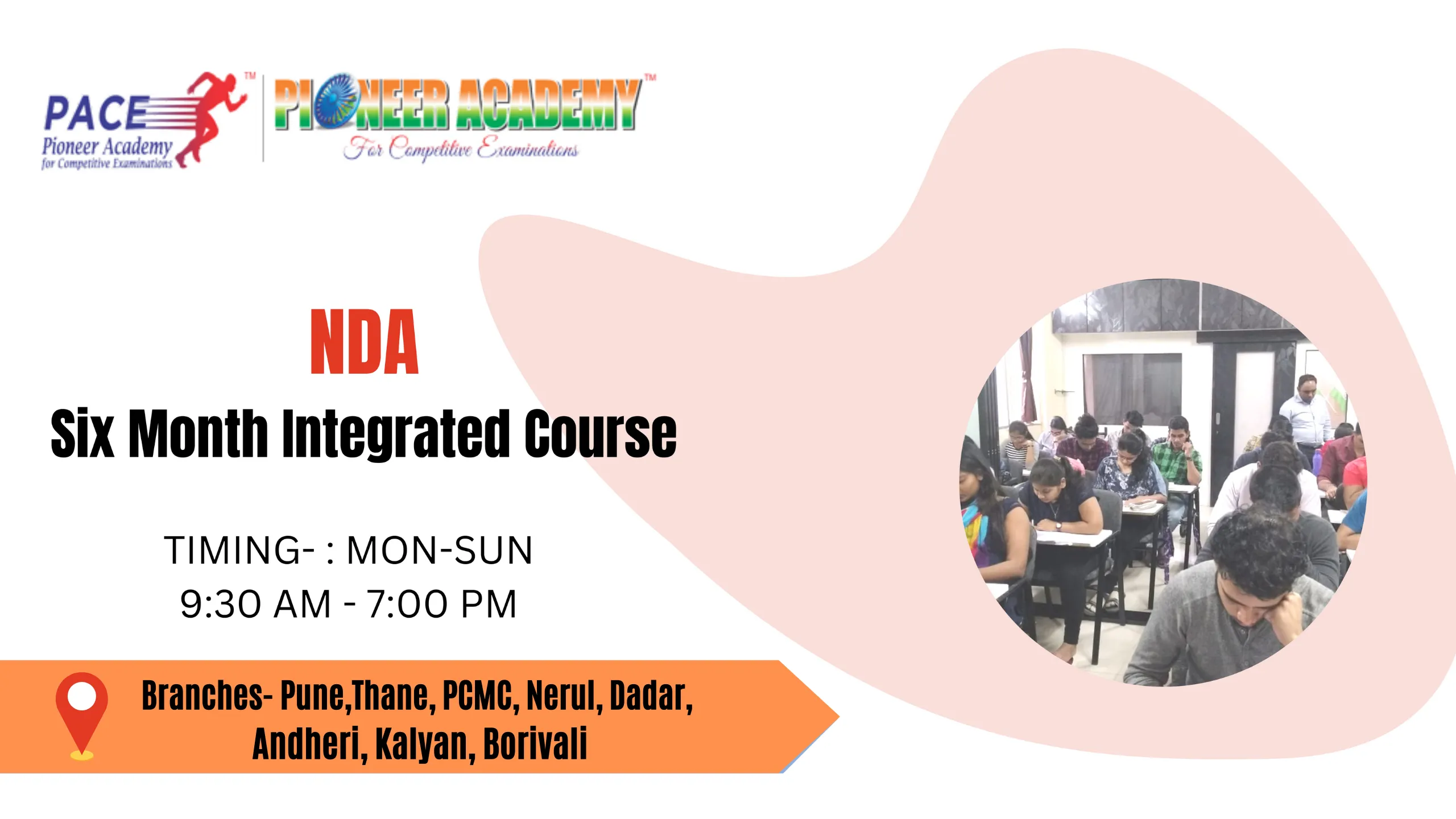 (Our Branches: Thane, Dadar, Andheri, Borivali, Nerul, Kalyan, Pune, PCMC, Satara)
If you want to crack the NDA examination, connect with the Pioneer Academy NDA classes in Andheri and join 6 months integrated batch. Pioneer Academy gives the best training and education as compared to other institutes. The institute interacts with students precisely and appropriately. Even the institute gives proper guidance to every student. Every student at Pioneer Academy receives a proper timetable which helps students to prepare for the examination appropriately individually.
The concise information about the NDA examination is given below :
Pioneer Academy NDA classes in Andheri offer 6 months of integrated courses for Students appearing for the NDA exam. UPSC conducts the NDA exam(Union Public Service Commission) for admission to the Army force, Navy forces, and Air Force wings of the NDA. This is a national-level exam conducted two times in 1 year: NDA 1 and NDA 2 to help a person make a career in Defence services.

A person can take their skills and knowledge to the next level and increase their chances of cracking the exam on the first attempt. Whether it is an Indian Navy, Air Force, or Army force, our primary concern at Pioneer Academy NDA classes in Andheri is assisting every student and preparing them for defence exams. National Defence Academy and Naval Academy Examination will be a two-step process where a person first needs to take the exam and then qualify for the personality test or interview conducted by the Service Selection Board (SSB). The UPSC is responsible for issuing selection guidelines and the entrance examinations final conduct. This was the basic information about NDA courses.

Tips to crack the NDA Exam:

Do self study and prepare the notes properly
Take guidance from the mentor or experience person
Make a self doubt notes
Relax yourself

Why choose Pioneer Academy for Six Months Integrated Course:

Regular classes with extra classes (Offline/Online):

Pioneer Academy for NDA classes in Andheri provides extra classes for the student whenever they are required with regular classes. We try to solve all the doubts of the students regarding the studies and syllabus. They can also schedule extra classes whenever they require or as per the academy regulation.

Latest Syllabus:

We teach our candidates with the latest modified syllabus by the government of India. All the subjects are covered with the latest information and print. All the syllabi maintained by us is government approved.

Good Infrastructure:

Pioneer Academy not only provide good education to the students but also provide them with good infrastructure too. All the things are taken by us for the students that are required for the preparation.

Flexible Fees:

Pioneer Academy provide an affordable fee structure for the students such as zero-cost instalment and loan facility. We dont want fees to come between your dreams.

Weekly/Monthly Test Series:

To test the knowledge of candidates we test every aspirant on the basis of weekly and monthly tests, and after each session, the test is conducted for them. We also provide them with details of the preparation so they dont get confused.

Hostel tie-ups:

For students who cant afford daily travelling, we provide them with the best hostel facilities till their education is completed. We dont want anything comes between you and your career.

Top Faculties:

At Pioneer Academy, only the best and world-class faculties are chosen to train the students. All the faculties are already an officer or bureaucrats so they get to learn from experienced people.
Separate Batches in English/Hindi/Marathi:

We provide students with comfortable teaching with three different batches as per their convenience and preferred language. We provide this facility in both offline and online classes.

Two-Way Teaching Facilities:

We provide two different ways of teaching for students one is offline and another is online, we provide this method on both weekdays and weekend classes.

Individual Mentor:

To guide students in their studies we provide individual mentors at our academy

The best education is the only one when both teacher and students put in effort hardly. The selection can be done on the following basis such as examination, personality test and interview. Dont take this task easy, they require lots of dedication and hard work to crack the process. So, dont waste your precious time searching for the best academy in your location and contact Pioneer Academy for the NDA examination. There are many branches Of Pioneer Academy where one can take admission and start their journey. Pioneer Academy give 6 monthly integrated batches for the NDA examination. Apart from the NDA exam Pioneer Academy also provides training for all types of government examinations. Pioneer Academy takes online and offline classes, so join now to take more benefits and achieve your goals. Also, do join our official website pioneeracademypace.com for daily blogs and other information updates.