IGMP INDIVIDUAL GUIDANCE AND MONITORING PROGRAMME MPSC
IGMP INDIVIDUAL GUIDANCE AND MONITORING PROGRAMME MPSC
MPSC Classes in Kalyan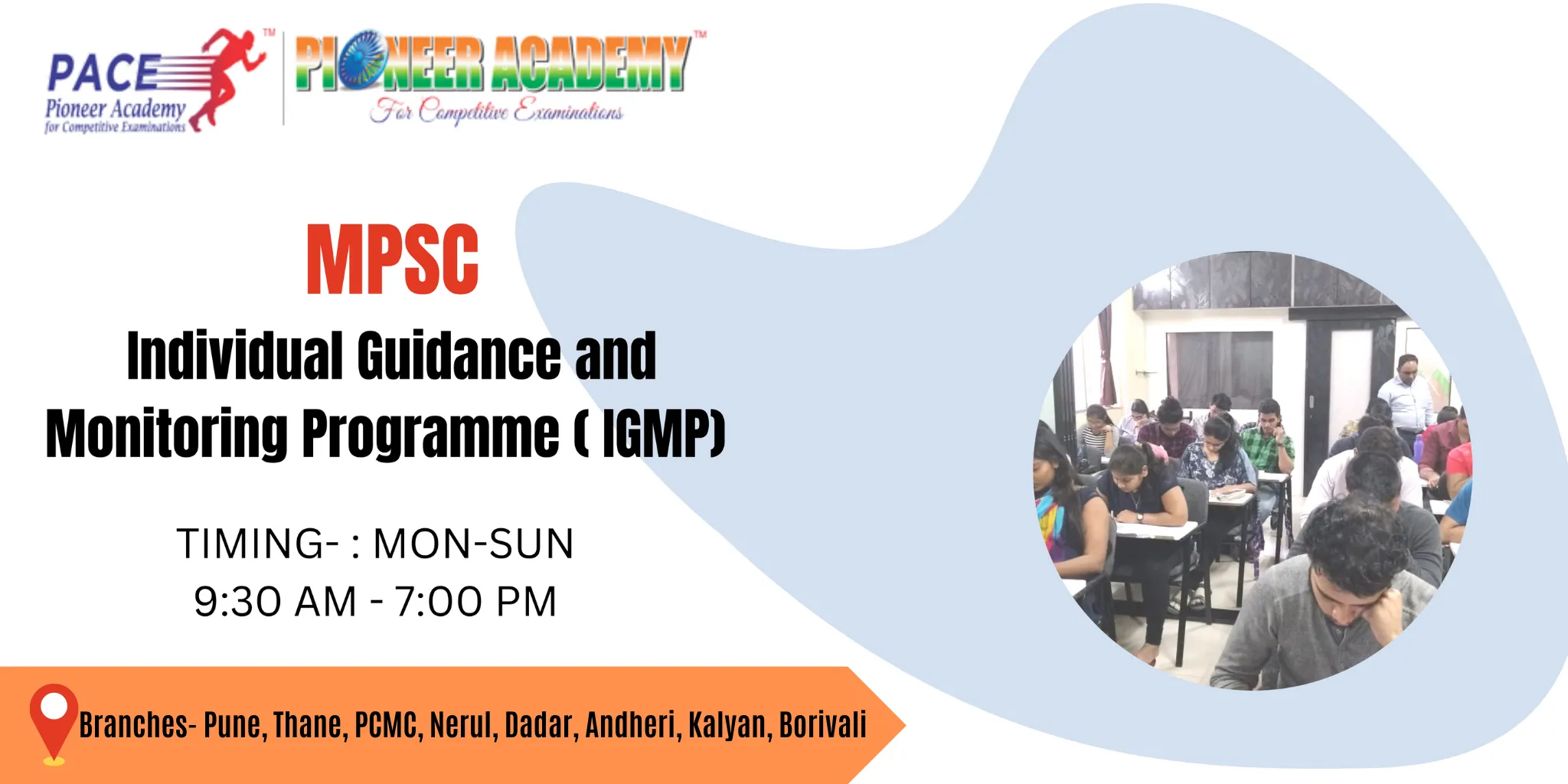 (Our Branches: Thane, Dadar, Andheri, Borivali, Nerul, Kalyan, Pune, PCMC, Satara)

Pioneer Academy always said that there is nothing easy in life. If you want to achieve your goals, you must work hard even though the MPSC state service exam is not as easy as it should be. So what do you have to do to succeed in this exam?
So Pioneer Academy is helping you succeed in this exam once you join our MPSC classes in Kalyan. First, set your own goal; our Pioneer Academy will tell you what kind of effort should be required to achieve it, right then?

Download Booklet:
First, make sure you want to be what you are studying. Dreaming is very easy, but it takes a lot of hard work and courage to achieve it, and it is a challenging task, that is why we make sure our students go through extensive training at our MPSC classes in Kalyan. Others say it is wrong to dream of MPSC; it should be your own decision because you have to work hard. Decide for yourself; who can know what you are worth without you? Do you see for yourself the hard work required for such an exam? Do you have that self-confidence? Is there constant willpower?
If none of the above, such a person becomes anxious about failure and sinks into the darkness of despair. But if your decision has been made with your hard work, confidence, and strong will, then go ahead with confidence.

Choose a suitable study material and start studying guided at MPSC classes in Kalyan. Put your energy into your study without wasting it. The study of the State Service Examination should be Wide Extensive and Selective Intensive. Extensive format for pre-examination and selective format for the main examination. We had to decide our goal in mind that it would take at least one year (before the pre-examination) to complete all the subjects according to the syllabus of the pre-service and preliminary examination. We should plan accordingly.
If you want to appear for the upcoming state service exam so start preparing today without a moments of delay. Devote at least 10-12 hours to your studies daily. Look out for all the information on what has happened in the last seven months and make a note of those issues on which questions may arise and gather information on it.

Read the books of 6th to 12th by looking at the syllabus of pre-examination. Marathis translation of NCERT books had been released and Pioneer Academy reads advanced books on each topic and gives notes.

While doing all this, keep revising, take the practice test (sit at home and try to solve the question paper), and stay within the time constraint (this can be called a practice test!).
Also, Pioneer Academy has taken so much care of the needs of students to help them prepare for the examination.

Pioneer Academy is helping you succeed in this exam once you join our MPSC classes in Kalyan. Extensive training is conducted for the students. We are here to guide students on the appropriate path so they can fulfil their dream of joining the civil service. We the best MPSC classes in Kalyan which is Pioneer Academy are entirely committed to and focused on the success of our pupils.
Pioneer Academy not only does complete research on the particular subject for the candidates but also analyses the same to make sure they dont leave behind. Any doubts regarding the courses and subject are frequently handled by the experienced faculties as per the students flexibility. These integrated batches not only focus on the students studies but also make them ready for the future by developing their attitude and personality. We believe that students not only focus on their studies but also on their nature and communication as well. Our MPSC classes also provide logical and aptitude tests on a weekly basis to prepare them for the competition. The individual guidance and monitoring programme also provides mentorship for the students that too on a personal basis.

We at Pioneer Academy take care of basic needs that are required for the students to help them in the examination, from basic study materials to proper infrastructure all have been developed by keeping the mindset of students. Every student is a rare diamond the only thing we do is polish them properly and make them shine. We take proper decisions regarding the students future and their career, and thats why we work hard behind the door for them.

Every step is important to us and also our priority goes to the students too, making them train properly, providing proper guidance, personal mentorship and the learning tools etc. Our academy not only trains students extensively but also grooms them well for the interview. We also take important reviews of each individual student and also test their current knowledge and personality.
You can also visit our branches for more information.